1600 AL ATV Wagon - Monster trailer for heavy hauling
By the staff of Dirt Wheels

4/1/06: When it comes to transporting bulky and heavier loads on your quad, the standard front and rear racks fall short. Sure they're handy for attaching some minor items, but the rack carrying capacities of the front and rear racks combined, seldom run much more than few hundred pounds. If you are into hauling heavy loads, some sort of ATV trailer is a good idea.

ONE OF THE BEST
The ATV Wagon by Bosski could be just what you're looking for. The prototype was designed and built to suit the needs of rugged outdoorsman up in Alaska, some ten years ago.

Today, the company is located in Caldwell, Idaho. They manufacture all sorts of aluminum and steel trailers for ATV riders nationwide. One of their largest trailers is their 1600 AL series, which is a monster sized, dual axle, aluminum bed and steel frame unit. We got our hand s on one of their newest units for some serious trailside testing. Here's what we found out.

SMOOTH RIDE
While Bosski makes trailers of all sizes, including their 800 single axle series and even an electronically dump bed 1600 UT model, the 1600 AL is their largest aluminum trailer and is designed for the toughest conditions you can find. It features a torsion bar suspension system to help provide a smooth ride over rough terrain. Each of the four wheels on the dual axle model is independently suspended.

The 1600 AL also uses heavy duty 800 pound rated axles with high speed tapered roller bearings. The spindle is over an inch thick and bolted on to a two-inch axle. It comes with high floatation, low pressure 25x 12x 9 tires for handling heavy loads, and increased ground clearance. Bosski claims these are the largest tires available for any pull-behind ATV trailer.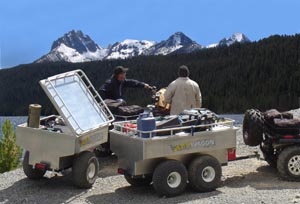 "...this is one of the best built, most rugged ATV
trailers we have ever seen or used."
A heavy duty powder coated steel frame combines with a lightweight, aluminum body to provide extra durability combined with easy towing. A fully TIG-welded, weather tight aluminum body is standard on the 800 AL and the 1600 AL. This gives the units added protection from the elements. These aluminum trailers also have easy resealable aluminum covers that latch on top of the trailer to keep your gear out of the weather. Tail/brake lights are also standard on the 1600 as well as the 800 series trailers. Power brakes are a standard high performance feature on all of the Bosski's 1600 series ATV trailers. The brakes are operated by your quad's brake light system as the ATV trailer has a built-in electric brake controller.

HAULING CAPACITY
With 45 cubic feet of cargo space, a cargo rack, plus a gas can holder, you have plenty of places to stow stuff. Make no mistake though, this is a large unit and requires a full size ATV to pull. Its empty weight is up there at 335 pounds but thanks to the fully independent suspension and huge 25 inch tires, it tows quite nicely. An added plus are the 1600 AL's electric brakes. They are simple to use and easy to wire, and you'll have all the stopping power you need for almost any load or condition. The Gross Vehicle Weight Recommendation is 1600 pounds. While not equipped with a dump bed, it is a large capacity load hauler.

The trailer also has a high 11 inches of ground clearance for navigating over rocks, ruts, and roots. The hinged lid is great for carrying extra gear on top and the enclosed cargo bed is really handy for wetter climates or snowy conditions. All in all, we liked the easy towing nature of this mighty trailer and look forward to using it on extended camping and hunting trips in the coming months. The suggested retail price is $1649, but this is one of the best built, most rugged ATV trailers we have ever seen or used! If heavy hauling is a mainstay of what you want an ATV to do, then the ATV Wagon is the way to go.

Copyright Dirt Wheels Magazine, Daisy/Hi-Torque Publishing Co., Inc. 2006